Skewjack and Surfing in the 60s
In early 1969 I joined Scotia Investments and, after a short period working for CEO John Bishop, I joined his brother Ron in the Holidays Division.
Scotia was a wonderful place to work as a young man. We had a film division that was instrumental in making the Battle of Britain movie, we had a chain of Bingo halls which were the cash cow, and we had four holiday camps in Bournemouth, Dawlish in Devon and two in Cornwall, Great Tree near Looe and just up the coast Seaton Valley. We owned the entire valley and it was run as a full catering Butlins style establishment with its own beach and pub.
I did a lot of the marketing going to all the camping and caravan shows in the North of England in the winter and in the summar I'd meet up with all the people I'd convinced to come and have a holiday with us. "Let me buy you a beer Jerry …"
Ron was an Essex boy and his friend Chris Tyler, who had moved to Penzance, had introduced him to surfing. They were in Morocco waiting for a wave when a lady popped up out of the ocean and said "Hi.." Her name was Suki and the two fell instantly in love!
Chris was working as an architect and doing up old Cornish cottages into holiday accommodation and was up to 10 or 12 of them when Ron suggested they did a surfing village together. From Chris' perspective this was like doing 50 holiday cottages in one go!
So they found an old RAF camp called Skewjack which was just up from Sennen Cove. It had been one of the WW2 radar sites and had heaps of huts to accommodate all the service personnel. The complete story is here. The winter was spent paint brush in hand transforming these direlict huts into surfing mecca Cornwall style.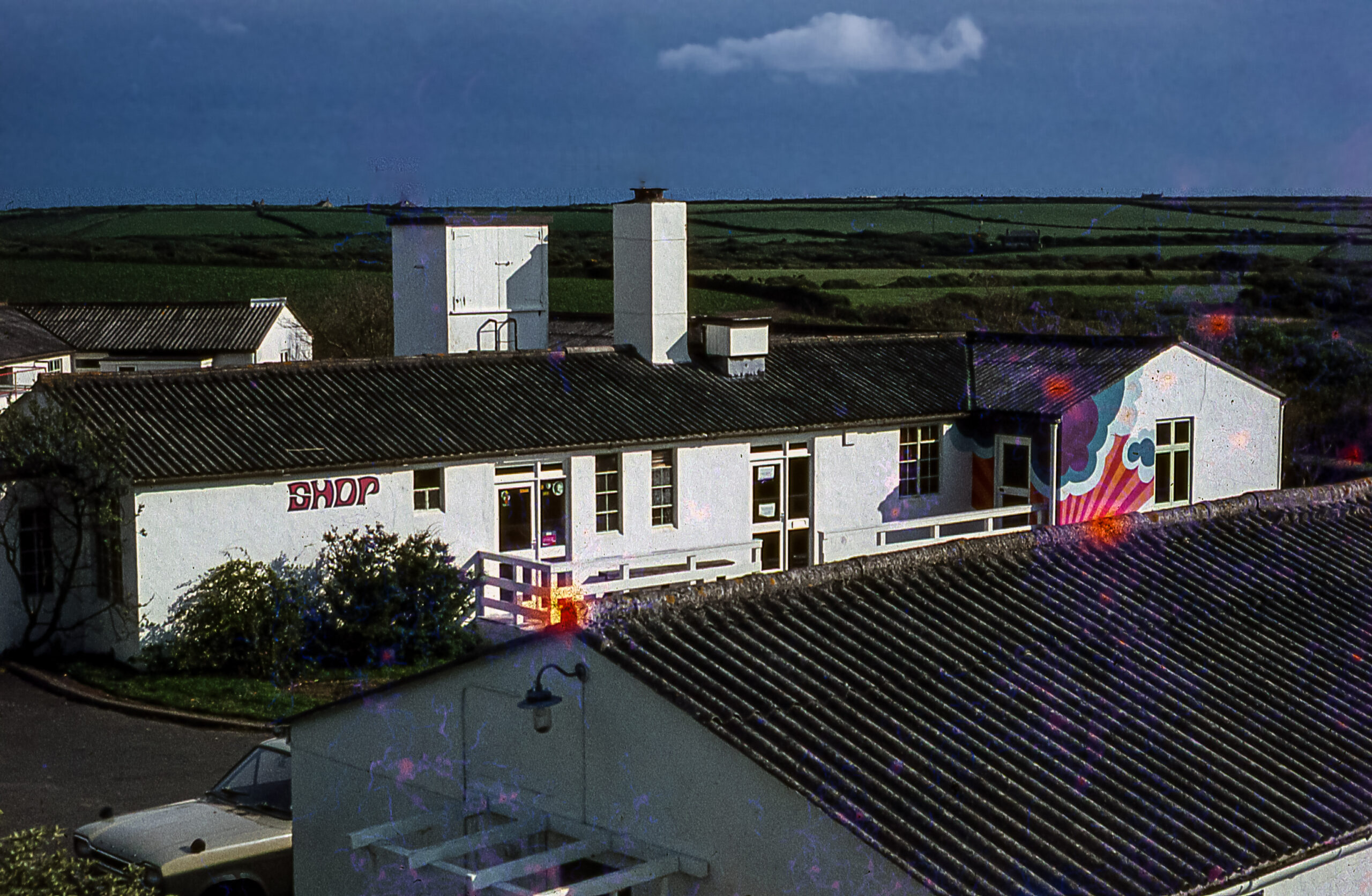 I imagine this photo was taken from the old water tower and it shows one of the huts with my Ford Escort parked in front and the shop/restaurant/bar/disco building behind.
This picture looks down on the entire village …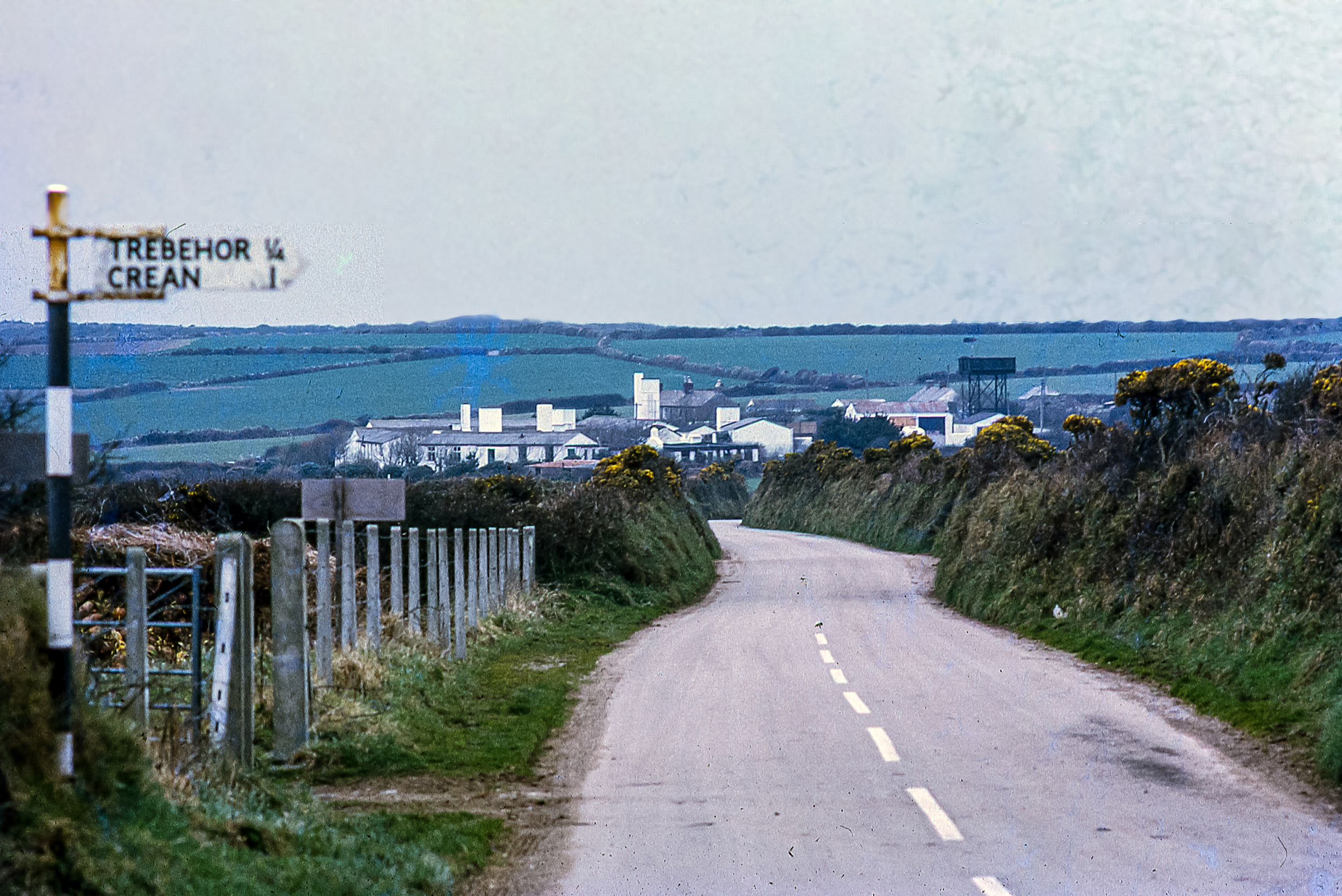 You can find the first brochure that we did to promote Skewjack in this gallery.
The picture below is an extract and that's me in the DJ booth to the right of the Sunset Bar. Cool huh? I was working with Chris to stock the bar on the weekend before we opened, and we agreed we needed to test everything properly. So we both had to test each of the spirits … all of the beers …and so on. It must have been 3 in the morning before we staggered back to the cottage. Still got up for a surf the next morning!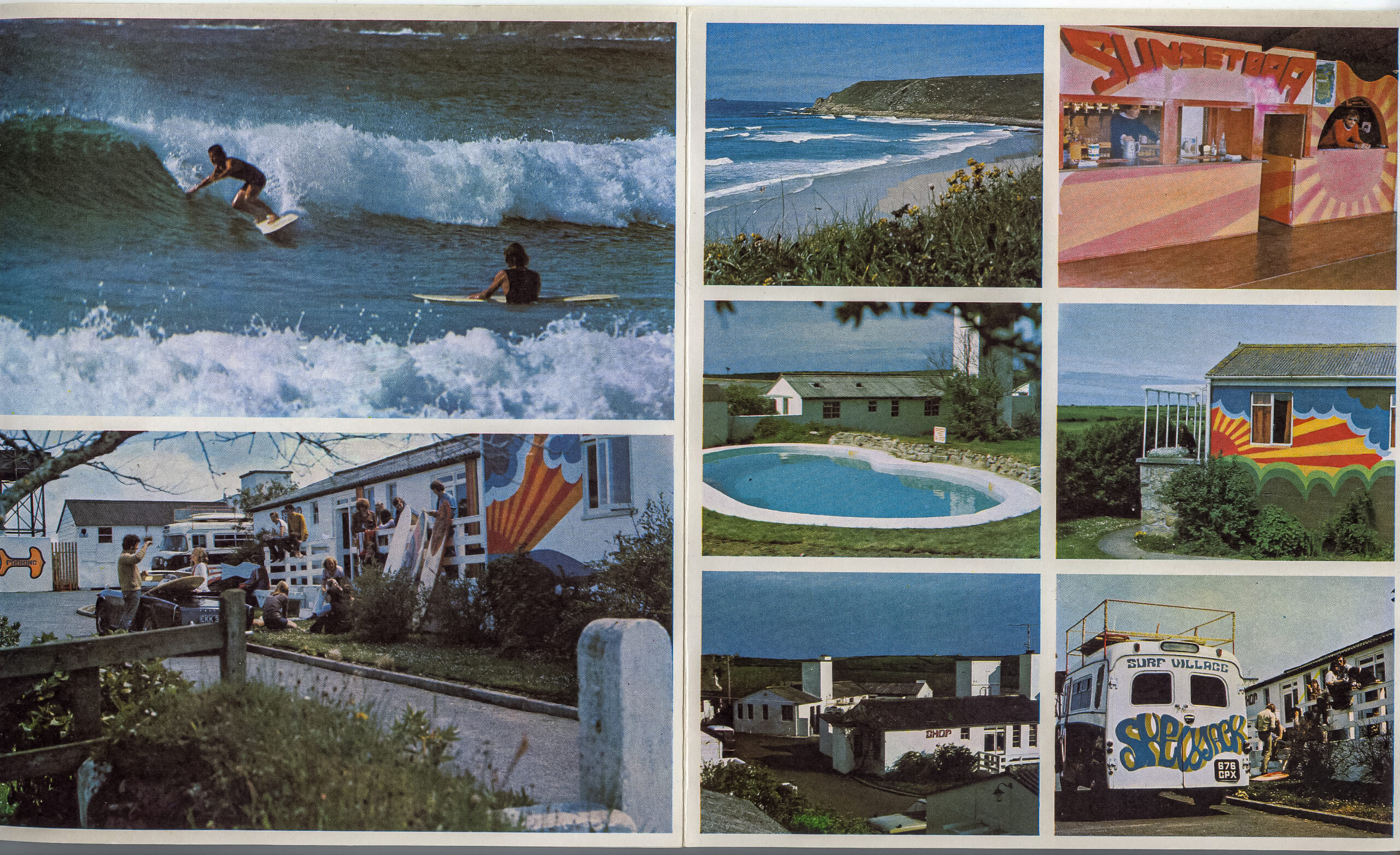 The ambulance was called Amy. We didn't pay much for her and we kept the front looking absolutely original. I'd had a set of air horns on the Escort which played Colonel Bogey and the Da Da at the start sounded pretty much like an emergency vehicle. Now Cornwall had all these narrow lanes and overtaking was sort of difficult … but made much easier with a bit of Da Da! People who had probably driven into a farmers' field to let us through would shake their fists when they saw the back of Amy and got the rest of the jingle after she sailed by!
They probably weren't our target audience!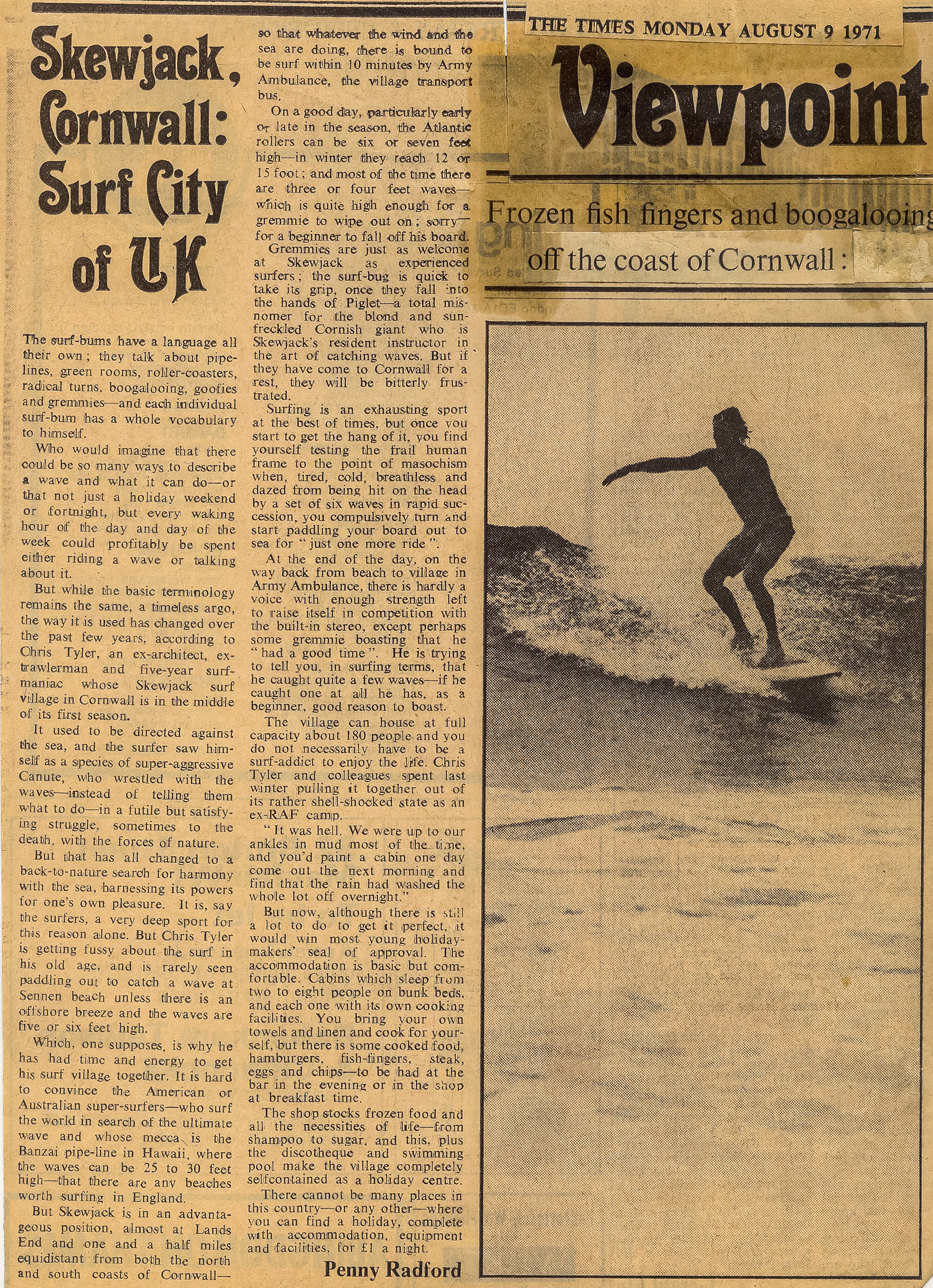 I picked Penny Radford up from Fleet Street on a Friday afternoon and she didn't complain as we hurtled down the A303 to Land End. The story she wrote for the Financial Times was outstanding and was no doubt responsible for many of the upmarket types that came down to Skewjack including our friends Philip & Rupert King: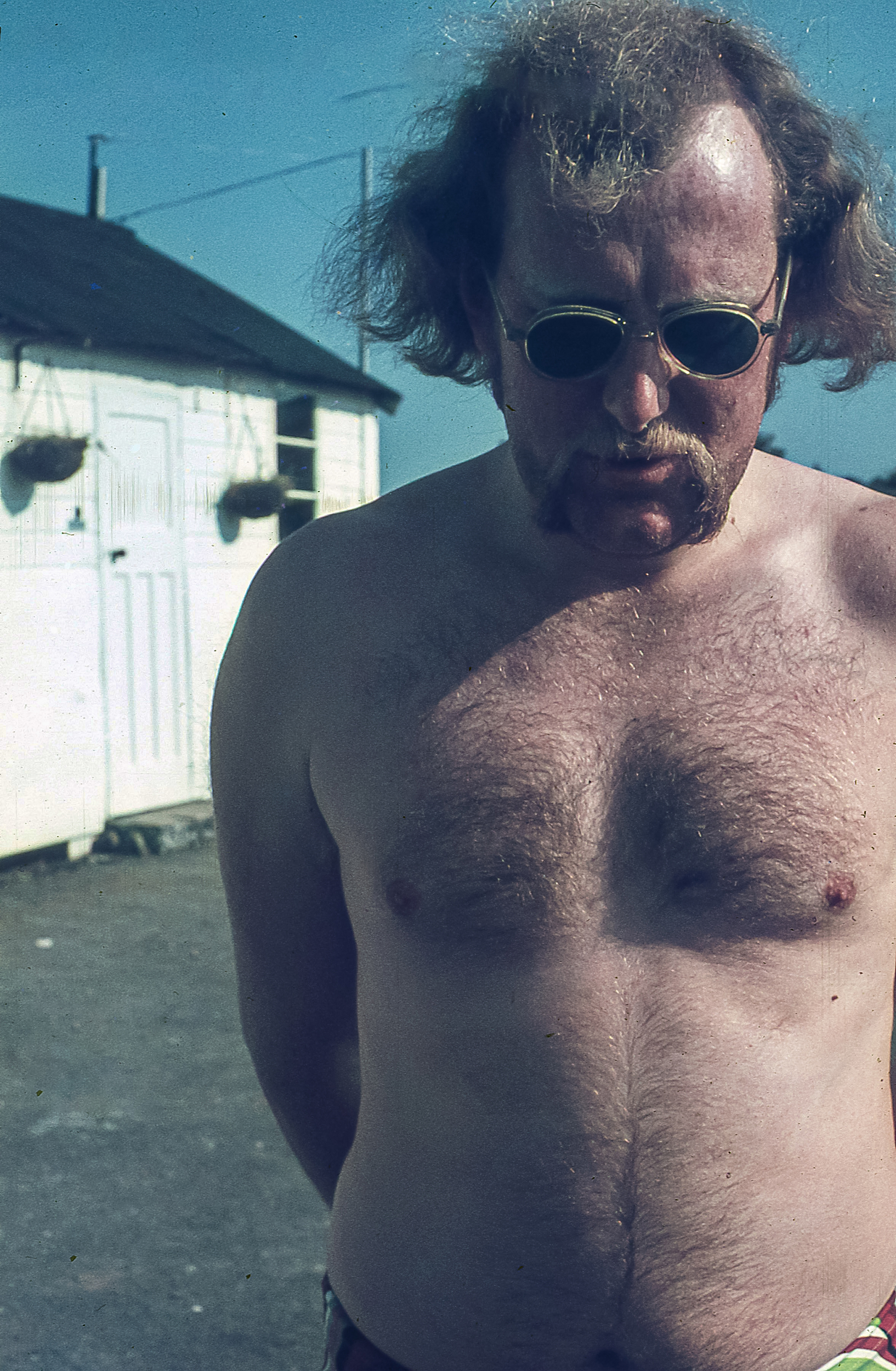 This may not be the most flattering photo and I remember this gentleman as Piggy. He was respojnsible for our wet suit factory. We used to surf all year round and the only wetsuits you could buy were divers ones … totally unsuited to surfing!
Chris acquired an industrial sewing machine and a supply of neoprene and a couple of weeks later we had hoods and bootees as well as wetsuits. Brilliant!
Yours truly … all decked out!
Piggy pecame the Town Crier of Penzance. Scroll down on this story till you come to Piglet!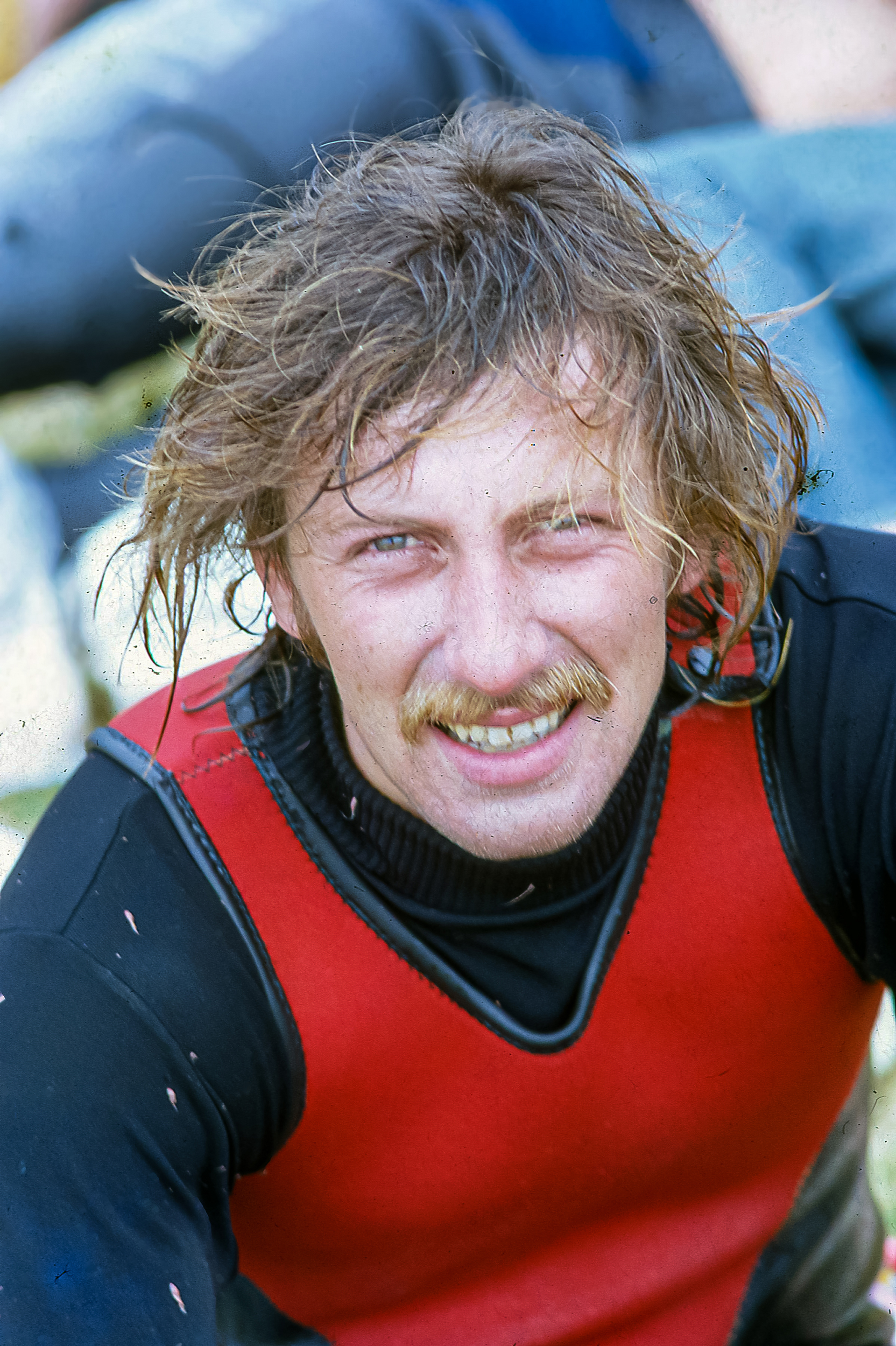 Scotia being a publicly listed company had an executive aircraft – a Piper Twin Commanche reg G-ATYF. We also had a pilot called Neil. He was pretty good at talking his way out of trouble when he landed in a field next to Great Tree in fog and put it though a hedge. This was in a single engined Piper with Ron in the right hand seat. Whoops!
This is Neil bringing the Twin Commanche into St Just.
I remember him taking up Ron, Chris and me in a single engined Piper. With all the weight on board we dribbled over the cliff at the end of the runway and gave our mates having a surf at Gwynver a bit of a fright as we just pulled up over their heads.
Gathering all of the meagre horesepower together Neil heads out way past Lands End and then turns round for a serious run at the Lands End Lighthouse.
The stall warning hooter was going bonkers as we just made it up and over the cliff top, and I have a lasting memory of all these people running for their lives in all directions!
Oh well … young and carefree!