I first met David Bertram when my Mum & Dad took me to Charterhall in Berwickshire, Scotland to watch my cousin David 'Bim' Bertram race his Lola Mk1.
Charterhall was an old WW2 airfield in Jimmy Clark country near Duns and to make it into a race circuit it only required a few hay bales to be placed strategically and everyone just took their chances.
These are the photos I took with my Kodak Box Brownie: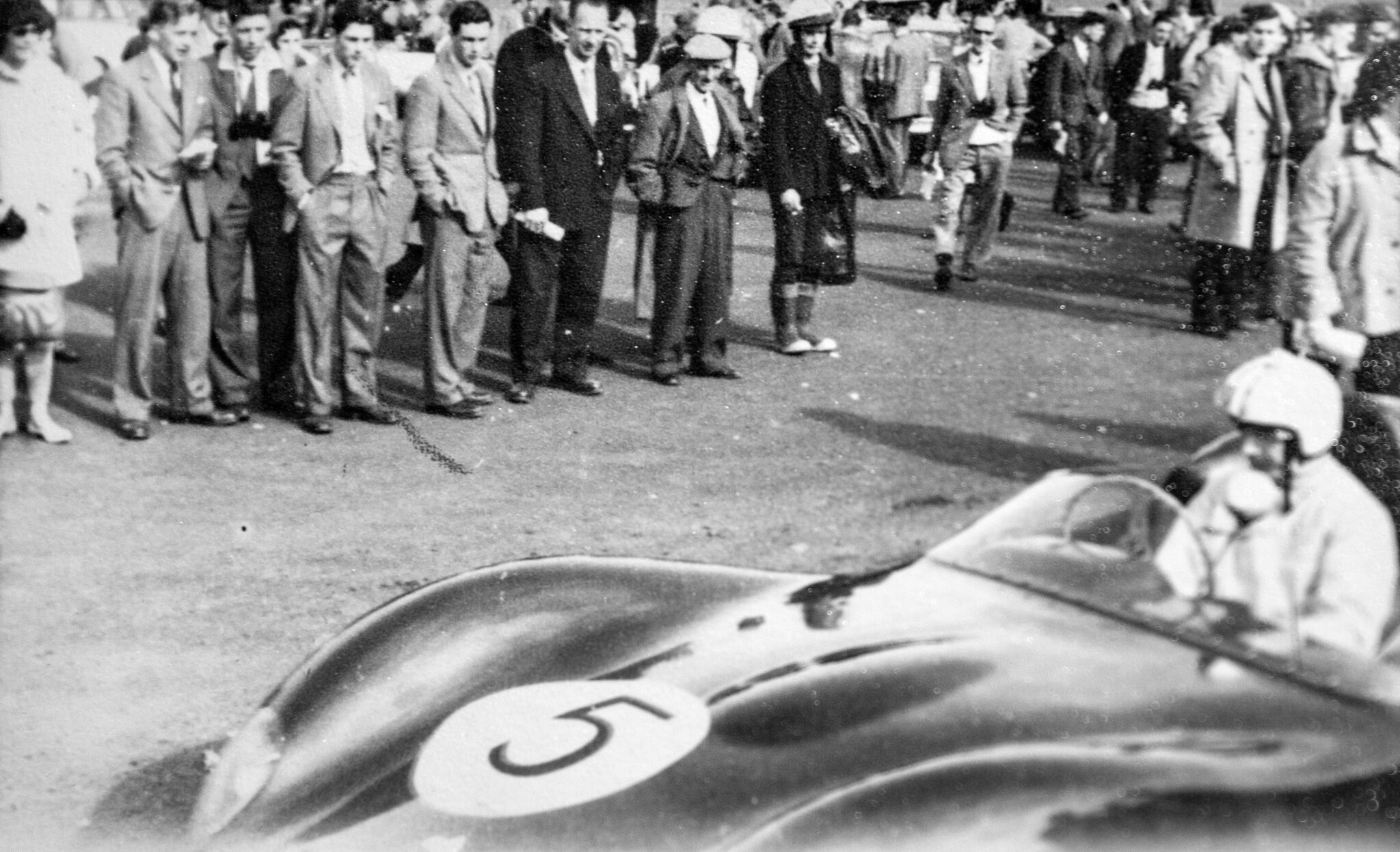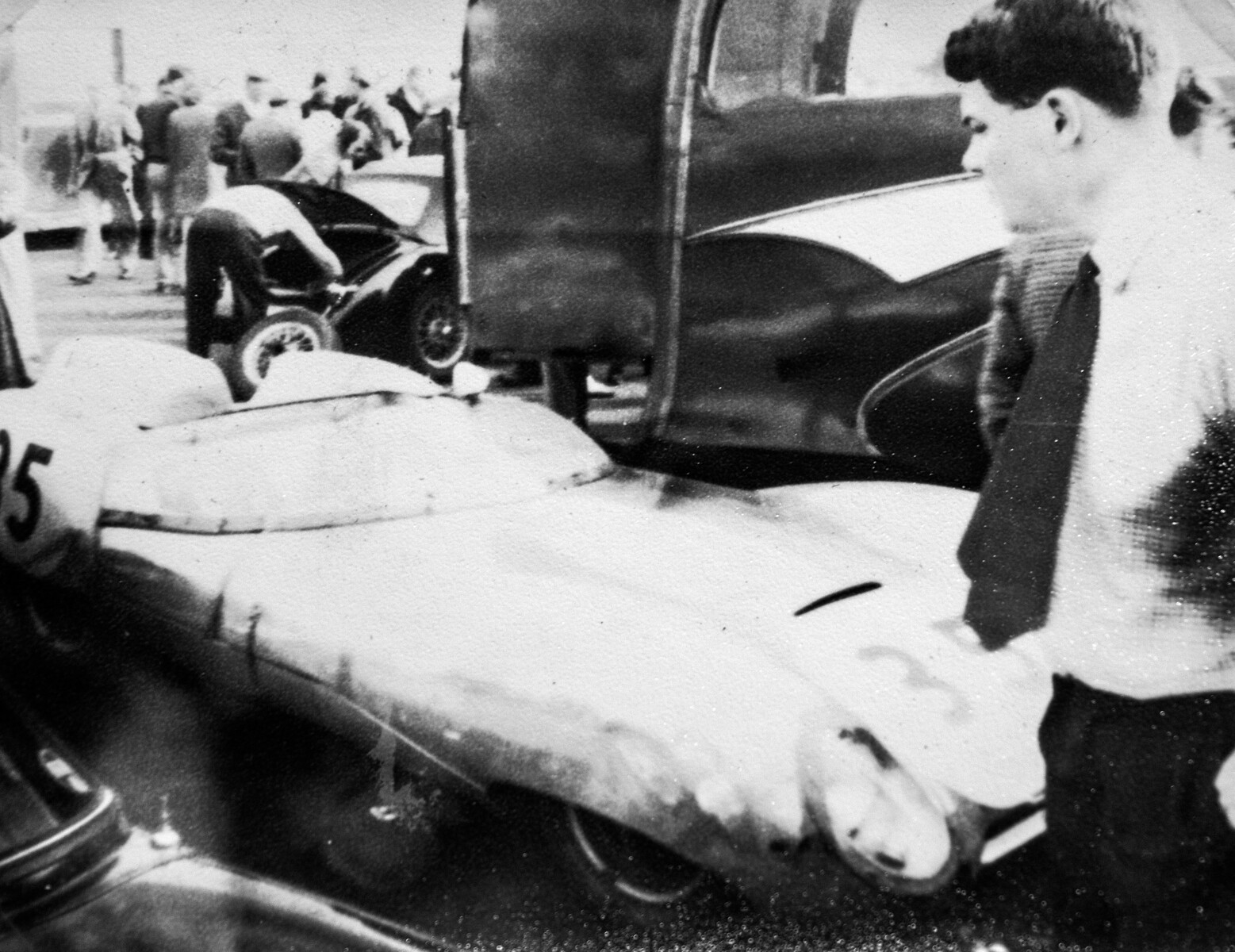 The top picture is the Lola and the bottom picture is the Lotus XI.
This is a link to the video my Dad took of the event.
A while later in the 1960's Mum took us up to stay with them in Edinburgh. Her mum had been Lena McNab and her sister Elizabeth had married James Bertram, David's father.
I remember a very smart Peerless GT and an Isetta Bubble car which Bim told me was prone to rolling over. Luckily it was fitted with a sunshine roof which could be rolled back and pedestrians could then be asked to put it 'back on its wheels'. Great fun!
In 2008 we were in Northumberland and thought we'd see if we could track them down. There were 20 Bertrams in the Edinburgh phone book and the first one I called a lady answered and I said: "I wonder if this is the Bertram that used to race a Lola?" Julia replied "That was a long time ago". We got together for lunch at their place and filled in the last half century and a lot of racing experiences on both sides.
Bim got his photo album out and some of the pics are here.
The brothers had started motorsport in club events and rallies and The Motor World of the day showed all three in Triumphs in the Scottish Rally: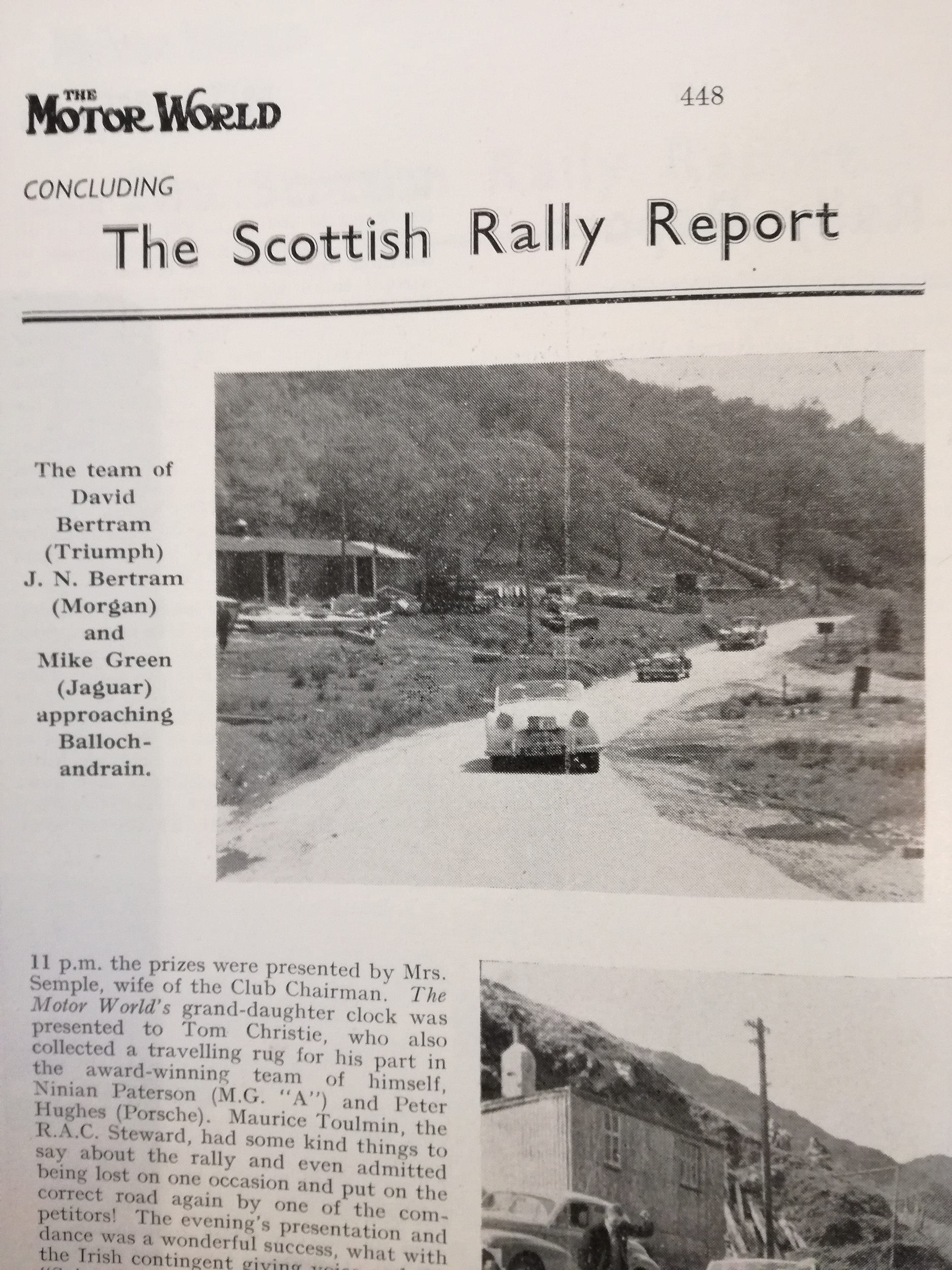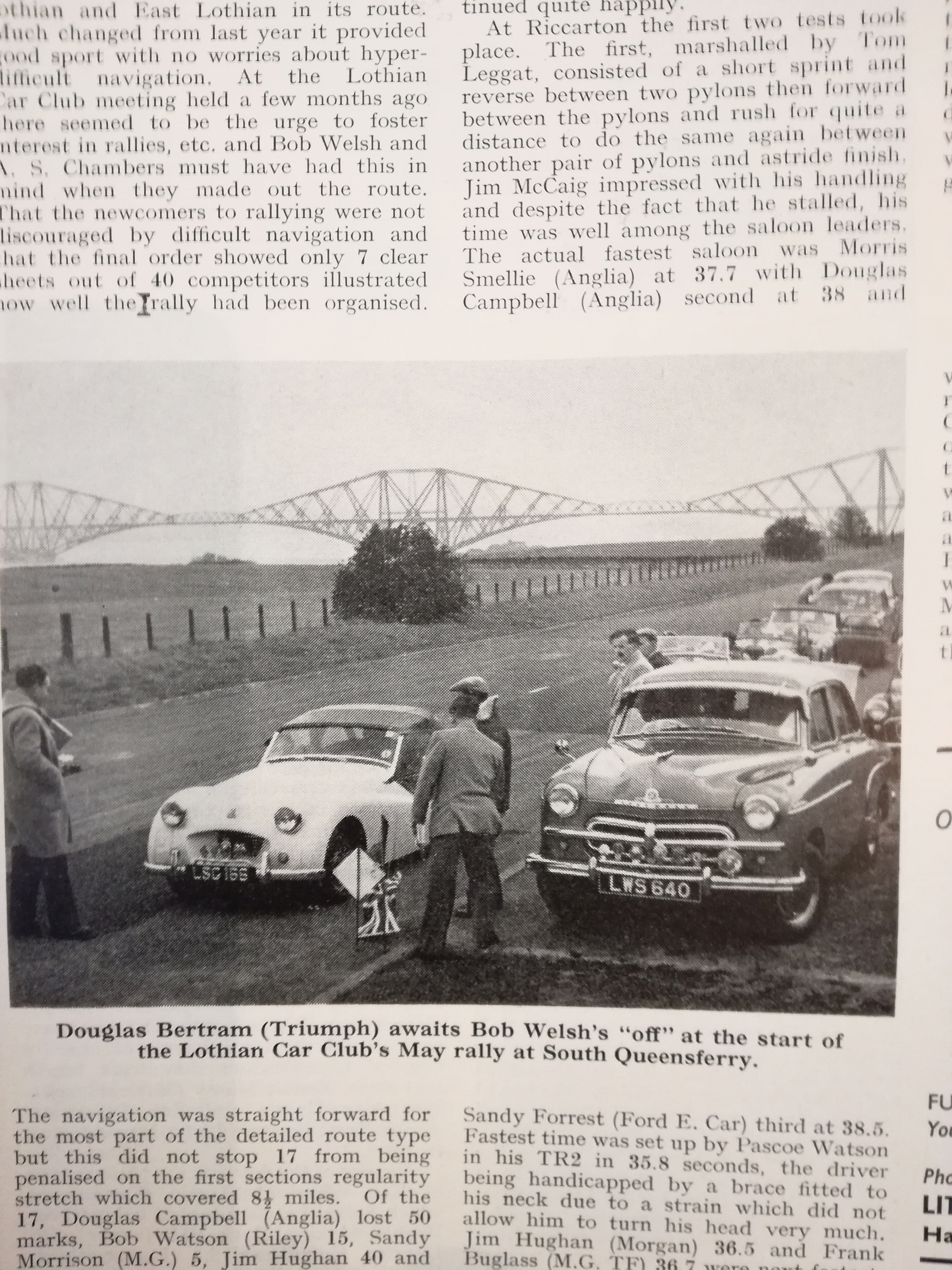 Julia had joined the Ecurie Ecosse Association as her first job after Uni and ran their newsletter. She met David through the team. This was our blog post from that visit: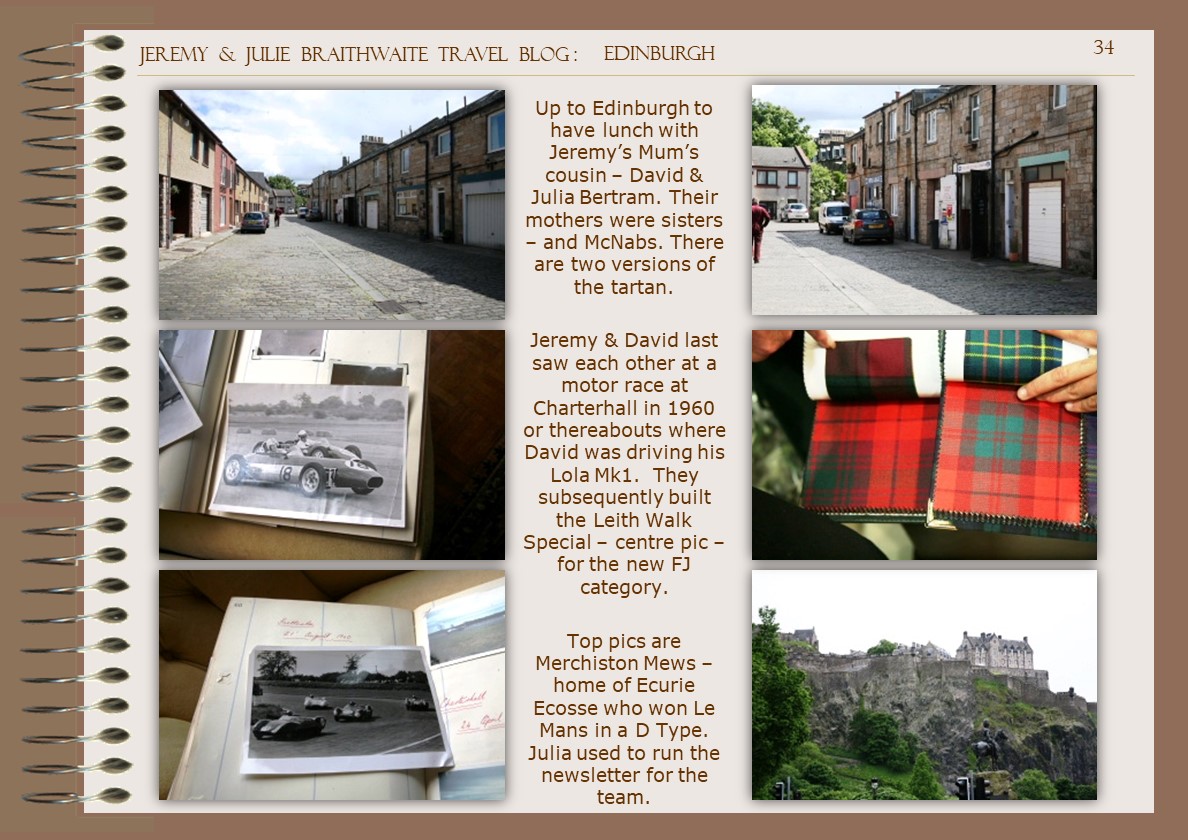 David & Julia's daughter Sue had moved to Melbourne and we talked on the phone and all kept in touch by email and it wasn't until 2016 that we all got together. A year later David died and Sue asked me whether I had any photos that could be used for the service.
I tracked down Graham Gauld who had been involved with Ecurie Ecosse over the years and wrote the definitve book on the team. He kindly obliged and sent three photos, with the first being David in the bubblecar doing a motorkhana. It's a cracker: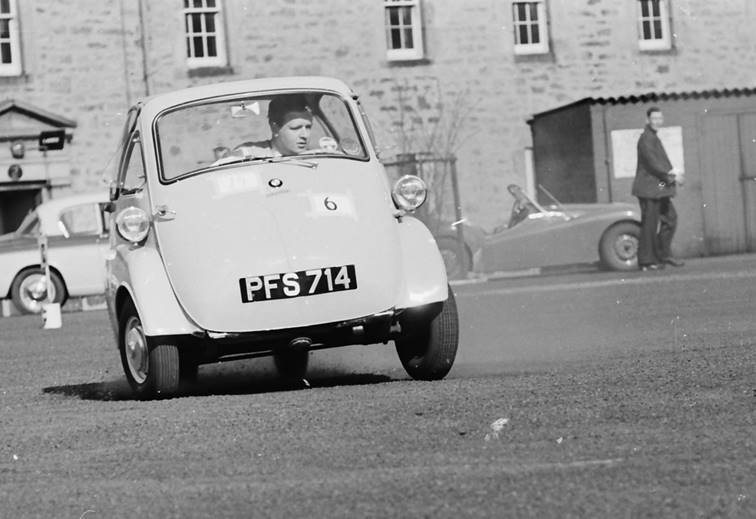 The next two photos were of the Leith Walk Special, a very early Formula Junior that was build at the works. The family made paper making machinery in Leith Walk and employed a large work force and mechanics Peter Beaton and Bill Turnbull were both on staff: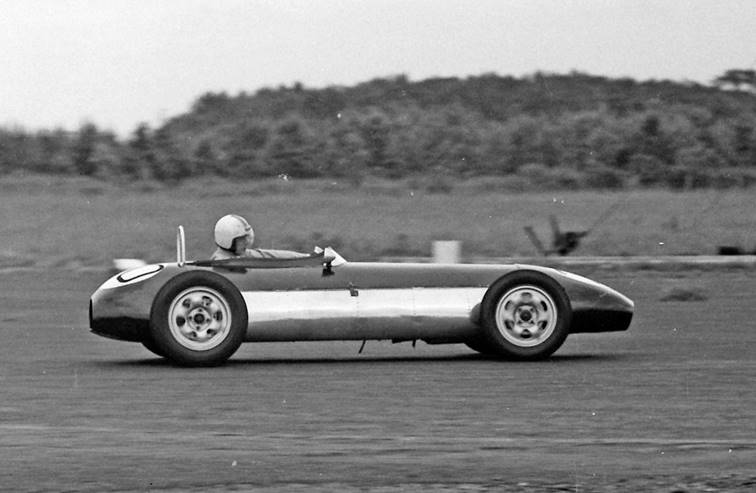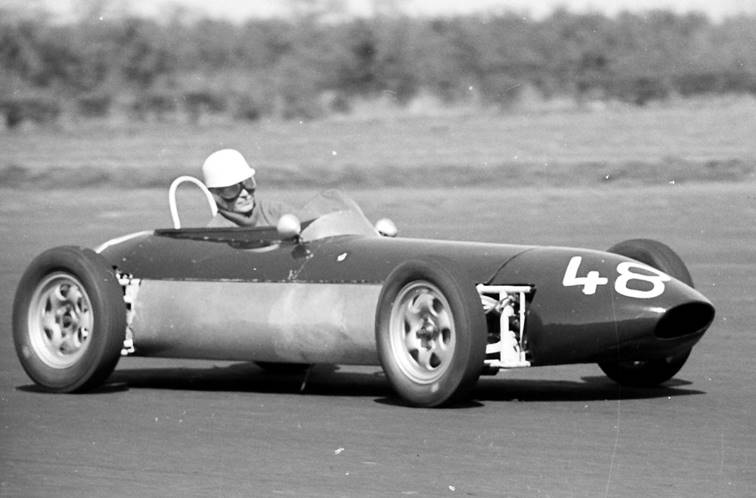 There is quite a bit of background in this thread from the old Atlas F1 forum:
In conversing with Graham Gauld he said I really should get a copy of his book 'Scottish Motor Racing and Drivers' as this had more than half a page devoted to the two brothers. I naturally agreed and Graham quoted me a price and said he'd get a quote for postage. The French post office quoted an outrageous amount and I suggested that should be enough to buy him lunch and could we pick up the book when we would be in the south of France in a couple of months time. Here we are with Jane Wallis-Hosken, Julie and Graham at their house in Clavier after a nice lunch at the Old Mill: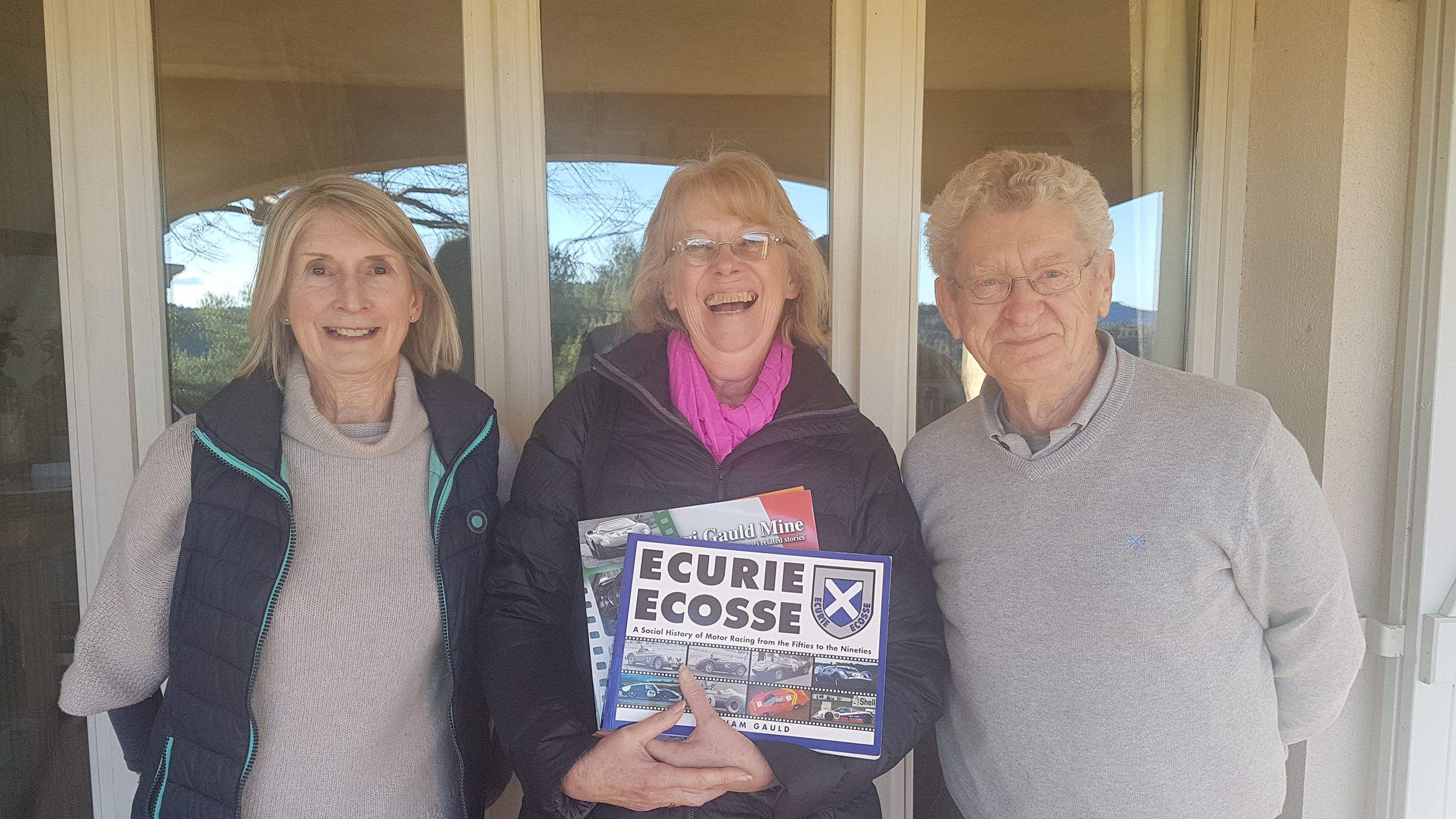 And this is an extract from the book: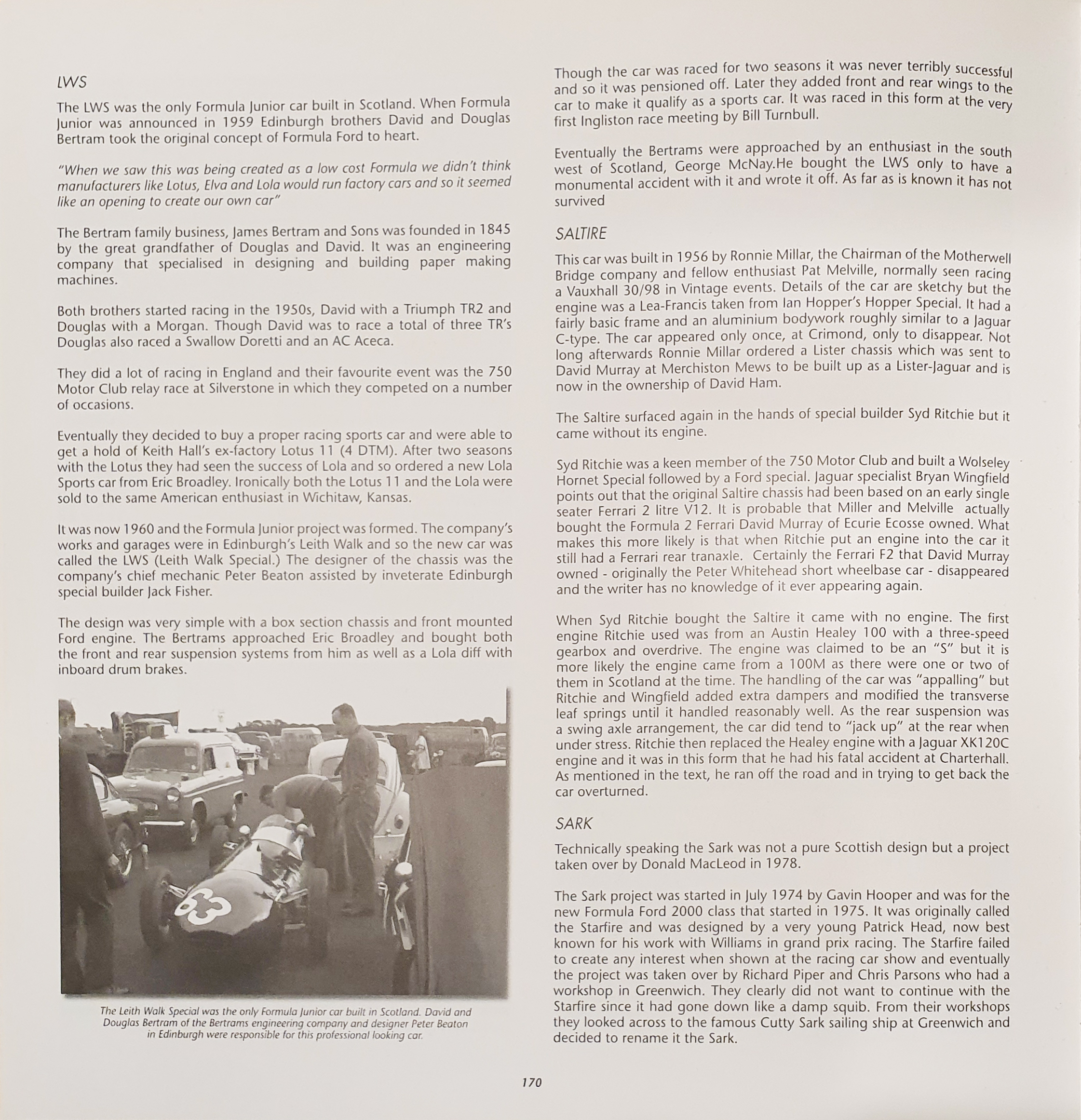 The Bertram Brothers Racing History
There is an excellent website which has a very complete history of sports car racing. Naturally Bim and his brother Douglas are featured. This is Douglas' summary page:
https://www.racingsportscars.com/driver/Dougie-Bertram-GB.html
It was a pretty diverse range of machinery with Swallow, Lola, Lotus, Morgan, Aston Martin and even a Daimler Conquest. The AC Aceca mentioned by Graham Gauld is not included in the website above.
The best placed finish was 3rd in the Lotus XI at Snetterton. Douglas was listed as driving with Bim at the Nurburgring but I'm pretty sure that it was just Bim and Eric Broadley – the founder and owner of Lola. Bim said he was pretty slow!
This is the summary page for Bim:
https://www.racingsportscars.com/driver/David-Bertram-GB.html
Its a great record with 12 podiums of which 4 were wins. The competition was pretty fierce and Jim Clark was a regular competitor at Charterhall in both the Ecurie Ecosse and the Border Reivers D Types as well as a variety of other machinery. This is a summary:
Charterhall – 5 Oct 1957 – Triumph TR3
Retired with low oil pressure

Charterhall – 27 April 1958 – Triumph TR3
Started – result unknown

Charterhall – 29 June 1958 – Triumph TR3
Started – result unknown

Charterhall – 6 July 1958 – Triumph TR3
Came 3rd beating Jim Clark in the Border Reivers Porsche 356a. In the later Trophy Handicap race Jim Clark drove the Border Reivers D Type and came 2nd to Jimmy Blumer in an Austin Healey 100S with Bimn 7th

Charterhall – 28 Sept 1958 – Triumph TR3
Bim was 4th in GT 1600CC+

Charterhall – 25th April 1959 – Lotus XI
Bim wins in the new Lotus XI beating Lewis Bramley and Jimmy Bulmer and came 2nd to Bramley in the 2nd race

Silverstone – 2 May 1959 International Trophy Meeting – Lotus XI
Bim shared the car with Mike McKee. They qualified 15th but there's no record of the finish. This was a major race meetking with the main race beiung won by Jack Brabham from Roy Salvadori and Ron Flockhart

Charterhall – 5 July 1959 – Lotus XI
Bim came 2nd to Lewis Bramley

Catterick – 13 Sept 1959 – Lotus XI
Bim wins from Alan Ensoll in a D Type Jaguar. In the 2nd race there he was pipped by Lewis Bramley in a similar car

Charterhall – 4 Oct 1959 – Lotus XI
Bim came 2nd from Jim Clark driving the Border Reivers Lister Jaguar. He was just 5 seconds behind the winner and beat another three XIs and two Listers
In the 2nd race Jimmy Bulmer gets in ahead of Bim and Jimmy Clark is 4th in the Border Reivers Elite

Charterhall – 24 April 1960 – Lola Mk1
Bim was wentered for a couple of races before this one but no start or finish was recorded
He finished 2nd in the 1100cc Lola to a 2.5l Cooper Monaco driven by Tom Dicksen. He beat another Cooper and a couple of F3 cars. Impressive!
Bim then wins the 1600cc race from his old foe Jimmy Bulmer in a Lotus XI

Nurburgring – 22 May 1960 – Lola Mk1
Binm drives the car with Eric Broadley and they finish 29th in a huge field with Lola 1 – 2- 3 – 4 in their class.
See the entry list below and the race report from Denis Jenkinson

Grand Prix de Spa – 29 May 1960 – Lola Mk1
Bim finishes 9th at Spa in a race won by Paul Frere in a Porsche 718 RSK.
Again the Lola's cleaned up their class with Bim 3rd of the 4 this time. A pretty good effort as a first timer at a pretty daunting circuit

Charterhall – 3 July 1960
Bim has a win at Charterhall from Jimmy Blumer in the Lotus XI in the 1600cc race and comes 2nd in the open race

Aintree – 1 Aug 1960 – Lola Mk1
Bim comes 5th overall and wins his class. There are a a Cooper Monaco, Lister, D Type and a large engined Lola ahead of him
This is the last result recorded on the www.racingsportscars.com database
This is the entry list for the Nurburgring:

Bill Turnbull not only looked after Bim's cars he also was a driver in his own right running a Lotus Mk VI, a Mowog special, the Ecurie Ecosse D Type XKD501 which was the original car delivere to the team in May 1955, a Seatron (?) entered by William Seaton. He also did many more races in the LWS than the Bertrams including a 3rd outright and a class win at Charterhall in June 1964, a class 2nd in the September and October meetings.
The records seem a bit patchy but the car definitely enttered the first Ingliston meeting in 1966 .
Bill is still alive today.