My dad had had MGs before the war and after the war he still had his desireable and quite rare 18/80. I don't think Mum found it particulalry comfortable and it had been replaced by the time I arrived on the scene with a much more swish Healey saloon.
These were the MGs …
So I arrived in Australia and, encouraged by Rob Dunsterville, acquired a recently restored but a-long-way-from -concours MG TD.
This was painted in a strange shade of yellow and the motor had been warmed over a tiny bit. It was a huge amount of fun and gave me an excellent introduction to motorsport from behind the wheel.
Here it is in South Australia at the MG National Meting in 1972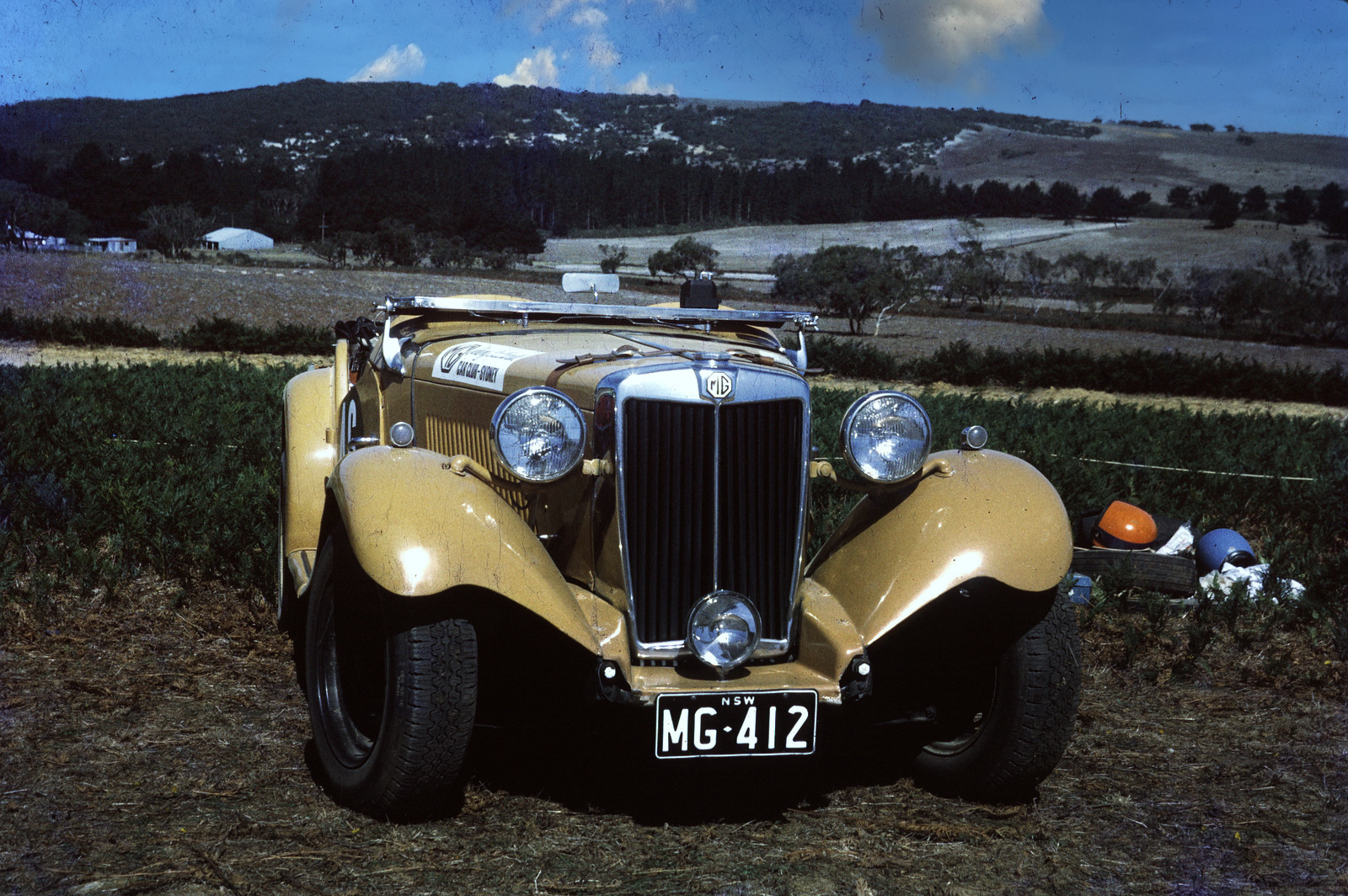 The MG club was a lot of fun in those days.
We joined in 1972 a group of english sports car clubs that ran a motorsport series each year with each club being responsible for hosting one round.
Called the Combined Sports Car Association or CSCA it includes today Austin Healey Owners Club, Club Lotus Australia, Jaguar Drivers Club, MG Car Club Sydney and also Newcastle, Morgan Owners Club, Sprite Car Club and Triumph Sports Owners Association.
Main circuit events were held at Amaroo Park and Oran Park. Both today are sadly housing estates. Amaroo also had a hillclimb and a dirt circuit which added some variety.
We did other events too. I have memories of lots of motorkhanas at the boys home at Leppington where the organisation required lots of witches hats which were often 'harvested' from the roadside the night before. The TD had cut away doors which made it ideal for this purpose. Not sure they ever quite got returned to the same bit of road!
The TD had a huge amount of body flex and if you put your foot down hard in the motorkhana it was enough to spring the suicide doors open. The solution was a bungee strap from door lock to door lock across the drivers lap.
Also remember a rally course in the forests at Hartley and the high dirt crown in the road dragged the rollbar down into the dirt and it acted like a snow plough.
Top Row: Rob Dunserville at Leppington, Peter Stokes at Leppington, Frank Bett (facing camera) and Dick Hennessy at the MG Concours at Newcastle with his lovely K3.
Bottom Row: Rob Dunsterville's MG TF, on the road to Adelaide for the 1972 National Meeting, and John Davis at the Leppington motorkhana.
You can see Ian Stokes surprised face in the back window of the landcrab. He had been asleep when Peter decided to show us all the way round the course he had just marked out. Ian woke to being violently thrown around!
Other photos from those days can be found on our Smugmug site.
On the subject of MG's see also: