Julie did a terrific job of leveraging our Accor membership and getting us a super deal at the Pullman in Circular Quay … and what a perfect place it was for a bit of R&R over Xmas.
The place was pretty uncrowded and we got in on Xmas eve and had a long leisurely walk through the Botanic Gardens before settling down to a kilo of prawns and a bottle of Moet.  What a great start to Xmas.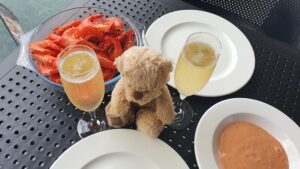 We then wandered around Circular Quay with our new Canon R5 mirrorless camera.  Its a real step up from the 5D Mk4 which set all the Canon standards when it was new.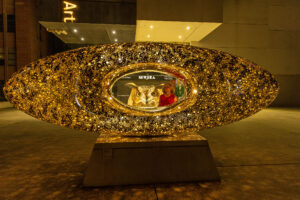 Xmas Day dawned fine and after a leisurely breakfast in our suite we ambled through the city to Darling Harbour and made our way to the Sofitel for Xmas lunch.  They really excelled this year with a 7 course meal which was nicely varied and a far cry from the traditional roast turkey!
This was the menu and here are some more pics.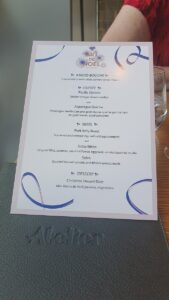 We took the ferry back to Circular Quay and had a bit of a snooze ….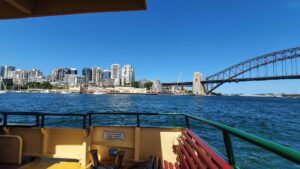 … before taking a walk into town to see all the Xmas Lights.  Not as much as previous years.  There was a reasonable crowd at St Mary's Cathedral so with Omicron Covid spreading rapidly in Sydney we gave it a miss.  The display at Tiffany & Co was the most spectacular: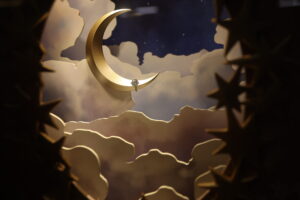 On Boxing Day we explored the Rocks and the lovely new gardens at Barrangaroo.  There was a steady stream of boats heading round to watch the start of the Sydney Hobart race which was won by Black Jack.  The boat had previously run under the name Alfa Romeo when owned by Neville 'Croaky' Crichton, a Kiwi who had raced successfully in the 1980's with Frank Gardner and Dick Johnson among others.  The motorsport linkage continued with the Black Jack name being in honour of Australia's three times world champion Sir Jack Brabham, and the yacht was registered with the Monaco Yacht Club.

We had dinner that evening at the Pullman.  Our Accor membership reduced the cost of the seafood platter to something approaching the price of pub food!  This was just the top deck!